Industrial casters can be used outdoors. There are just some extra considerations regarding corrosion and other damages that you need to consider.
For one thing, outdoor surfaces tend to be much harder on casters than when used indoors. Rocks, cracks, uneven surfaces, or potholes are common in cement and asphalt. These factors can stop a cart from rolling, and even cause damage due to impact.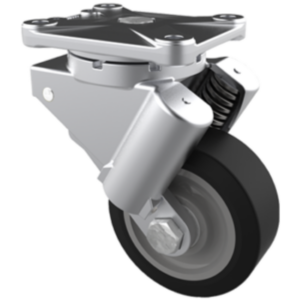 In these instances, a spring-loaded, shock-absorbing caster is ideal for outdoor use. The springs allow for the wheels on the caster to roll over obstructions while dissipating the shock and load movement caused by the wheel impacting the obstruction.
Aerol offers the ability to customize every shock-absorbing caster we sell. This includes tapered roller bearings in the wheels and swivel rigs, allowing the caster to accept vertical and side loads.
Another option is to use Pneumatic Tires. These wheels provide longer wheel life, less maintenance, and high shock absorbency.  Cushion Tread Wheels are another option and feature a soft core of hear-resistant rubber to provide maximum shock mitigation and a tough rubber cover to ensure long life.
Environmental factors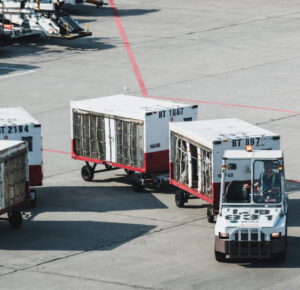 Water, humidity, snow, and other sources of moisture can corrode and damage casters. They will cause cast iron to rust, they may deteriorate certain polyurethane tread formulations, and they can impact bearings.  Extreme heat and very hot surfaces can denigrate a caster if rolled onto those hot surfaces.
Aerol casters are made from high-grade aluminum and will not corrode or rust in moist environments, making them ideal for outdoor use. Pneumatic and Cushion Tread Tires and Mold On Rubber wheels are also ideal for moist and wet environments, as they are not damaged by moisture.
Higher Traveling Speeds
Many outdoor applications involve the use of a Tugger, tractor, or other powered mechanisms. Most can be traveling at speeds that exceed the average walking speed of 3.1 mph. It is critical to know the expected speed that these casters will experience. We offer a few different options for applications that require operation at speeds higher than walking speeds. For example, we have casters that can handle 20mph when equipped with anti-shimmy devices.
Please contact our sales staff to develop the ideal solution for your exact challenge. We can custom build a caster to meet your exact needs.