Wheels
Aerol aluminum industrial wheels and casters are known for their durability and low maintenance costs. Our maintenance-free casters are factory lubricated for life and feature a positive pressure seal to withstand exposure to a variety of weather conditions and temperatures, abrasives, and other foreign debris.
Because of this high quality and satisfaction of performance, every major industry and all branches of the armed forces use Aerol products in hundreds of applications. Our castes are made of #356 aluminum because of its high corrosion resistance, its high tensile strength, and its uniform sectional properties.
You'll find a large variety of industrial caster wheels in all sizes to meet your specific application. This includes Aerol Industrial Wheels and our Aerolast Polyurethane Wheels, Pneumatic and Cushion Tread Wheels, to the user-specific V-Groove Wheels. There are a few factors to think about when choosing which type of wheel you will need.
For example, our Aerolast wheels are capable of elevating their performance without compromising safety. They can withstand elevated temperature environments up to 250° F intermittent exposure before breaking down. Urethanes are also excellent if the caster wheel is exposed to a variety of chemicals or fluids that can degrade the tire. For outdoor use and cushioning, pneumatic wheels and cushion tread wheels are ideal. Is the wheel being used on a track? In that case, v-groove and flanged wheels are preferred to minimize guidance and rolling effort.
Whatever your requirements, Aerol has a heavy duty caster wheel for your industrial application. If you still have questions regarding the proper caster wheel choice, you can click on the learn more button on any of our caster wheels below.
V-Groove Wheels
V-groove wheels are constructed of premium G-3000 gray iron castings or hot forged C-1030 steel. The 90 degree grooves are … V-Groove Wheels
Shock-Absorbing Caster Wheels
Aerol offers the highest quality domestic Mold Rubber wheels. Our mold-on rubber wheels consists of a soft black, 70-durometer rubber … Shock-Absorbing Caster Wheels
Pneumatic Wheels
Pneumatic wheels offer the highest cushioning, shock-absorbing caster/wheel, without moving to a more expensive spring-loaded caster. Capacities of pneumatics are … Pneumatic Wheels
Nylon Wheels
Nylon Wheels are a high load capacity, floor protective wheel. Wheel capacities approach those of similar cast iron and steel … Nylon Wheels
High Profile Wheels
The success and popularity of Cushion Tread Wheels prompted AEROL CO., to make available a series of wheels with similar … High Profile Wheels
Cushion Tread Wheels
The advantages of a solid rubber tire are that it will not go flat even when punctured and that it has … Cushion Tread Wheels
Airlite Industrial Wheels
Airlite wheels are designed for medium-duty applications and feature a single-wall construction of highly corrosive, spark-proof, impact-absorbing prime aluminum alloy. … Airlite Industrial Wheels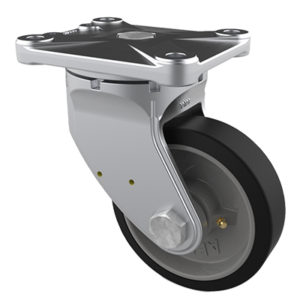 Aerolast Wheels
Discover the Superior Performance of Aerolast Wheels The Aerolast wheels formula takes full advantage of urethane elastomers' unique resilience, hardness, … Aerolast Wheels
Aerol Seal Wheels
Aerol Seal Wheels are positive pressure-sealed with a single well, highly corrosive resistant aluminum casting. These features, when combined with … Aerol Seal Wheels
Aerol Industrial Wheels
Aerol Industrial Wheels are factory lubricated for life with Lubriko-Master lubricant (M-21), offering unusually high film strength, an extremely high … Aerol Industrial Wheels