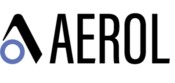 New Website Coming Soon!
Hello and welcome to the official Aerol.com website. Our new website is currently under construction but you can still submit orders using the form below. If you have general questions or inquires please click on the "Contact Us" button in the lower right-hand corner of the this page and fill out the form. A representative will be in touch with you as soon as possible. Thank you for considering Aerol for your caster needs. We look forward to hearing from you soon.
Find a Product Fast!