Aerol Casters are designed for a variety of applications and conditions.
There are many different types of casters available on the market, and it can be challenging to decide which type is best for your needs. The majority of Aerol casters are made of high-grade aluminum (although we do offer some steel) in both swivel and rigid varieties. Let's compare the benefits of each.
Swivel and Rigid Casters 
Caster swivel lock have wheels that allow them to spin quickly in any direction, making them great for maneuvering in tight areas. Rigid casters are designed for straight-line travel and can handle heavy-duty applications.
Rigid Casters 

A rigid caster is the most popular type of caster. These casters are designed to restrict vehicle motion so the vehicle travels in a straight line. While it does limit maneuverability, the advantages are that rigid casters are stronger than swivel casters and can carry higher load capacities.
Swivel Caster
The swivel caster is a more versatile and mobile option than a rigid caster. With this design, the fork allows the caster to rotate about 360 degrees. This benefit allows you to quickly move in any direction without changing its orientation. The swivel casters will automatically align and rotate parallel to the direction you're traveling in. The swivel design is also helpful when moving around equipment in limited mobility situations.
Longer Swivel Lead Benefits When Towing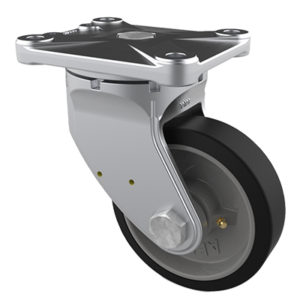 By extending or lengthening the swivel lead on a caster, a loaded cart is easier to turn as it requires less force to get moving. With power towing applications, the longer the swivel lead is, the better the caster will track (constantly follow) the movement of the tugger pulling the cart. The longer lead will also help reduce caster flutter, where the caster begins to shimmy and vibrate while being towed. Just remember that longer leads increase the swivel radius, so turning the caster will require more turning room than one with a shorter lead.
Aluminum vs. Steel Casters
Aerol aluminum casters and wheels are made with 356T6 aluminum alloy, which is heat-treated to improve strength. The added T6 treatment provides excellent hardness. This aluminum is also spark-resistant and corrosion-resistant.
And while there are many benefits to using aluminum, steel has an advantage in some specific environments. For instance, it's stronger than its counterpart to support heavier loads. From a cost perspective, it is also less expensive than aluminum.
Caster Wheels
Wheels are a key component in the makeup of a caster. Depending on your needs, there are a variety of wheel materials to cushion loads, carry heavier loads, or make loads easier to move.
Cushion Tread Wheels provide a safe and quiet way to move around, particularly over uneven ground. These rubberized tires will protect your floor from damage while providing you with smoother rides than castors or foam-filled alternatives. Aerol's line of Cushion Tread Wheels complies with all dimensional and performance requirements of Specification MIL-W-21985.
 Polyurethane Wheels are the best choice for any vehicle that will be used in demanding conditions. You'll find these wheels on heavy duty casters and equipment in various applications where a thicker tire provides more traction for rough terrain without being too soft to damage sensitive parts within the vehicle's suspension system.
High Profile Wheels are generally 1.25 to 1.75 inches thick and provide a greater carrying capacity, wearability, or sound deadening than polyurethane wheels. These wheels have a high-profile tire using two rubber compounds: the face of the tread is of a tough, abrasion-resistant compound, and the remainder of the tire is of soft, heat-resistant, energy-absorbing rubber. The wheel core is a lightweight aluminum casting.
Casters with pneumatic wheels are the ideal choice for any industrial environment where both protection and smooth movement are desired. These casters offer extra cushioning against rough surfaces as well, so you can roll over debris or surfaces like gravel or cracked cement.
Suitable casters can make all the difference in your specific industry. With such a large variety to choose from, we can find an option that will work with your particular needs. Need immediate assistance? Give us a call at 888-972-9861.