Aerol products are always at the top of the class, from trailer axles to shock-absorbing casters.
Airports and the air freight services that utilize them rely on ground support equipment to keep their operations moving. What keeps this equipment going are casters that must stand up to constant use and abuse, including unyielding surfaces and unfavourable weather conditions. Because when ground support equipment becomes unreliable or unsafe, the effect on freight operations is immediate.
Solving running gear challenges with products tailored to your needs.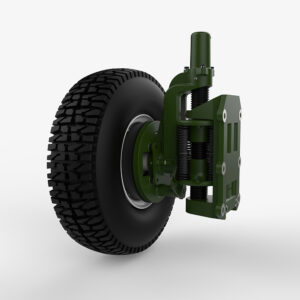 For decades, Aerol has enjoyed a strong relationship with the military, aerospace, and commercial industries. With capacities of up to 12,000 lbs. per axle, Aerol has solved mobility problems ranging from light-duty utility trailer axles to front and rear axle synchronized steering units for people movers.
A big reason for our success is that we have the engineering expertise to understand exactly what your need is and provide you with the best solution. This includes developing running gear that is adaptable to virtually all types of trailer configurations. If it deals with keeping ground support equipment moving, we've got it covered.
For diverse and demanding military applications, depend on Aerol.
We manufacture Shock-absorbing casters that are spring-loaded and designed to absorb shocks and minimize the impact for specific applications and weights. This results in smoother movement, reduced risk of damage to carts, and less noise. Shock Absorbing Casters are ideal for Aircraft Ground Maintenance Systems, Engine dollars, and Aircraft Jacks.
Pneumatic and Semi-Pneumatic Wheels are an excellent choice for high-speed applications in baggage, utility, cargo, trailers, and outdoor uses, including wet environments associated with Aircraft Ground Maintenance Systems. Sealed-hub construction wheels are available when airtight, water-tight, and permanent lubrication features are essential. These wheels are also ideal for rough and uneven surfaces, including gravel, cracked cement, thresholds, and other surface environments.
Our Aluminum Casters are ideal for outdoor applications, as aluminium is lightweight, has high strength, and is non-corrosive to withstand the elements. Perfect for Aircraft Maintenance Stands, Aircraft Engine Stands, and Aircraft Wheel Dollies.
Casters for Jet Engine Transport Dollies support the additional weight of newer engine designs, provide easier manoeuvring and accommodate carts currently in operation.
As a reliable and respected supplier of casters and wheels for ground support equipment worldwide, Aerol provides safe, efficient, and durable motion solutions from the ground up.